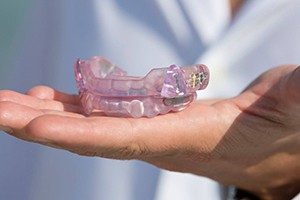 It's the middle of the night and you wake up to your wife twisting and turning underneath the bedsheets. Startled, you crawl over and ask her what's wrong. "My jaw won't stop hurting, babe. I can't sleep," she says. On top of that, her head won't stop aching, even after taking painkillers. You're worried it could be something else but not sure what.
If you're looking for a solution for you or loved one's chronic jaw pain, a TMJ mouthguard could be the answer. Read on to learn a solution for your chronic aches and pains.
What is TMD?
TMD stands for temporomandibular joint dysfunction, a disorder that specifically affects the temporomandibular joints. These joints are located directly in front of your ears and are responsible for connecting your jaw to your skull. They also make simple tasks such as talking, eating, laughing, yawning, etc. go smoothly. However, if these joints become strained or injured, it can lead to TMD.
Patients with poor posture in their neck and upper back muscles may experience neck strain and abnormalities in jaw muscle function if they leave TMD untreated. Patients may also notice added muscle tension and jaw clenching as a result of TMD, so diagnosing the symptoms early are essential to avoiding any complications.
What are the Symptoms?
If you have arthritis, recently experienced an injury, or even extreme stress from working, you'll want to make note of the common symptoms associated with TMD, including:
A stiff/painful jaw
A jaw that pops, clicks, or gets stuck in place
Neck pain
Chronic headaches
Earaches
Teeth grinding a.k.a. Bruxism
It's worth reiterating that symptoms do not exclusively occur in the jaw itself. Since the joints are connect directly to your skull and are near other vulnerable parts of the body like the ears and neck, symptoms that occur in these areas need to be accounted for. Tell your doctor about these symptoms as they may refer you to your dentist for additional diagnosis. The dentist will provide a closer examination of your jaw and test its range of motion in order to take the necessary steps to alleviate your pain.
What is an Occlusal Splint?
An occlusal splint is a unique mouthguard designed to specifically fit your mouth and gently shift it to a more relaxed position. Just like a standard splint, this helps the agitated muscles relax and heal over time, mainly while you sleep. As you wear it, the jaw muscles will reorient to the new position and stop the pain associated with TMD. However, some patients may need to wear it continuously to avoid the symptoms.
To learn more about occlusal splint therapy to treat TMD, contact us today to schedule a consultation.
About the Author
Thomas Novak, DDS, graduated from the University of Illinois College of Dentistry in 1991. After serving in the U.S. Navy Dental Corps for give years, he eventually earned a Fellowship with the Academy of General Dentistry in 1998. To learn more about his practice and TMD treatments, you can contact him at (817) 594-7302 or visit his website.