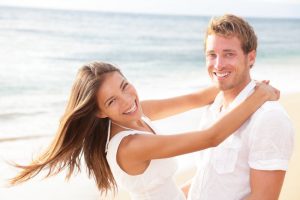 There are lots of things that are worse than an unattractive smile, such as serious diseases, natural disasters, and filing your taxes. Still, no one wants to cringe when they look at their own teeth. Cosmetic flaws can downgrade your confidence and make you hold back from showing off that winning personality of yours. Instead of simply putting up with the things you don't like about your pearly whites, you can correct those imperfections with porcelain veneers. How do veneers work, and how can they give you the smile makeover that you've been wanting?
What Are Porcelain Veneers?
Porcelain has been used in dentistry for centuries, but only in the past few decades has its cosmetic potential been unlocked. Since the 1980s, veneers have been all the rage among both celebrities and normal people who want a head-turning smile.
Porcelain veneers are thin pieces of porcelain that your cosmetic dentist permanently attaches to the fronts of your teeth. They look natural (sometimes better than natural) and can disguise all sorts of flaws, including:
Discoloration
Cracks and chips
Small gaps
Minor crookedness
Misshapen teeth or teeth that are too small
Cosmetic bonding can accomplish many of the same things as veneers, but veneers last longer and are more resistant to stains and damage. The option that is right for you will depend largely on your goals for your smile as well as your budget.
What Is the Process Like to Get Veneers?
Your path to a new smile begins with a visit to your dentist, who will chat with you about the way you want your smile to look. They may even show you examples of what you can expect your teeth to look like after your veneers are in place.
Then, your dentist has to prepare your teeth. This involves removing a bit of enamel from them, a process that ensures the veneers will look as natural as possible in your mouth. Your dentist will then make an impression of your teeth, which the laboratory will use to create your veneers. You'll wear temporary covers for your teeth until your custom new look is ready. At your next appointment, the dentist will attach the veneers.
Do Veneers Require a Lot of Special Care?
Maintaining your veneers isn't difficult. If you follow these simple guidelines, it's likely that your smile will stay looking amazing for many years to come:
Stick to a good oral hygiene routine
Don't chew on anything that's very hard (like ice) that could break the veneers
Visit your dentist at least twice a year
Limit your consumption of dark foods and beverages that might stain the veneers, such as coffee, wine, and berries
Are you ready for a smile makeover? Porcelain veneers may be just what you need to fall in love with your teeth.
About Our Practice
Drs. Thomas Novak and Rebecca Doolittle provide top-notch general and cosmetic dentistry to folks in Weatherford. If you are interested in learning more about porcelain veneers, we would be happy to help. You can contact us at 817-594-7302.