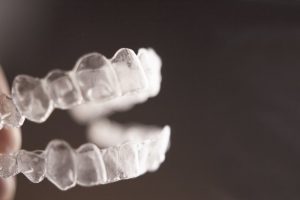 Perhaps your dentist recently informed you that your crooked teeth are endangering your oral health, or maybe you're just sick of seeing your misaligned smile whenever you look in the mirror. Either way, an orthodontic treatment might be what you need to achieve teeth that are beautiful and healthy. But metal braces are ugly! Moreover, if you're an adult, braces can make you feel like you've gone back in time to high school (especially if you have a goofy coworker who you know will call you a "metal mouth). Fortunately, there are alternatives to traditional metal braces. Let's take a moment to talk about clear aligners and their benefits.
How Do Clear Aligners Work?
When you choose to use ClearCorrect instead of metal braces, your dentist will design a series of custom aligners. You'll wear each aligner over your teeth for about two weeks. Every time you switch to a new aligner, your teeth will move a bit closer to their correct positions.
It's important to wear ClearCorrect for about 22 hours each day. Therefore, the only times you should remove your aligner is when you're eating or cleaning your teeth. But since they are removable, you won't have to worry about the dietary restrictions that come with regular old brackets and wires.
The overall length of your treatment time will depend on how far your teeth need to move, but you should expect to wear your clear aligners for at least a year.
Just How Visible Are They?
Let's get real here — ClearCorrect isn't invisible. Other people will be able to see that you're wearing an orthodontic device. The aligners might make your teeth look a tad larger than normal, and people will notice the bit of plastic at the bottom of the aligners that goes beyond your teeth. However, if you're interacting with people from a distance or just speaking to them in passing, they might not notice your clear braces. That's a big improvement over traditional metal brackets and wires, which practically scream out their presence to anyone within eyesight.
Also keep in mind that some patients need attachments for their clear braces, which are easy for onlookers to spot.
Another thing that's easy to see? Results! In just a few months of treatment, you and the people around you may notice that your teeth are looking better and better. Talk about a confidence boost!
Who Can Use Clear Aligners?
Are you ready to experience the new confidence that comes from a straighter smile (and avoid the stigma of metal braces)? ClearCorrect is right for almost anyone who has misaligned teeth or a bad bite. However, your orthodontist should be the person who ultimately decides which treatment is right for you. Why not schedule an appointment soon so you can get on the road to having the smile of your dreams?
About Our Practice
Dr. Thomas Novak and the rest of our team love to help people transform their smiles, which is why we offer discreet and effective orthodontic treatments. If you would like to learn more about ClearCorrect, please contact us at 817-594-7302.