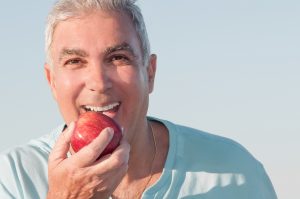 Over the past two decades, dental implants have become the premier solution to a growing problem in America today: tooth loss. They are the one treatment that actually restores an entire tooth from root to crown, creating a final result that is virtually indistinguishable from nature. Whether you are missing a single tooth or are dealing with unreliable dentures, dental implants in Weatherford can help you finally reclaim your smile, and you can learn all about them in today's blog post.
How Do Dental Implants Work?
A dental implant is actually a small titanium post that is placed directly into the jawbone to mimic the root structure of a lost tooth. Once there, it can be attached to a variety of dental restorations to replace the teeth above the gum line.
This approach not only makes them the most stable solution available, but also the most natural-looking. Plus, unlike traditional bridges and dentures, they can actually help stop/prevent the bone loss that is so common after tooth loss, which can help preserve the overall appearance of the face.
The procedure to get them involves two main phases: placement and restoration. For placement, a dentist or oral surgeon will determine the location of the implant(s) using diagnostic images, and then they will surgically position the posts within the jaw (which is actually a very minor procedure). Afterward, a patient will be given a few months to heal, during which the implants will actually fuse to the surrounding bone, making them even more stable.
Then, after a patient has completely healed, they'll return to their dentist to receive their new teeth, whether that's a single tooth, a bridge, or a full denture.
Who Is a Good Candidate for Dental Implants?
Pretty much anyone who is dealing with tooth loss can benefit from dental implants. In order to get them, a patient needs three basic requirements: good oral health, stable overall health, and a strong jawbone. If any of these are missing, it will need to be addressed before the implant procedure can proceed. Fortunately, an implant dentist can take care of two of these issues themselves, but in the case of an overall health issue, they will refer a patient to their family doctor.
What To Expect After Getting Dental Implants
One of the best things about dental implants is that they not only look and feel like real teeth, but you also take care of them the same way. Regular brushing, flossing, and routine dental appointments can help an implant last for 30 years or more. This is why, even though they tend to cost more upfront than other tooth replacement options, they are the overall most cost-effective treatment (traditional bridges and dentures typically need to be replaced every seven to ten years).
All in all, if your missing teeth are making you feel self-conscious or preventing you from eating your favorite foods, dental implants can help those problems disappear. Simply contact your dentist in Weatherford and ask about them, and you will have taken your first step to getting your life back.
About the Author
Dr. Thomas Novak is a general, restorative, and implant dentist based in Weatherford, TX. He's been a staple in the Weatherford community since 1996, and in that time, he has literally helped hundreds of patients get their smiles back with dental implants. If you're interested in learning more about this treatment and how it could help you, he's eager to talk to you. To get in touch, he can be contacted through his website.