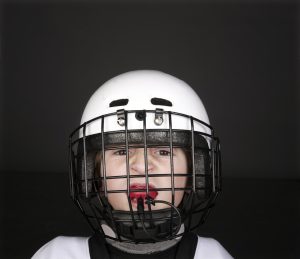 School is almost out, summer is almost in, so now is the time to think about keeping the smiles in your family healthy and safe. Dental mouthguards in Weatherford come in many forms. The one that is right for you will depend on the purpose or the treatment that is necessary. Read on to learn more about the types of and uses for dental mouthguards.
Why Are Dental Mouthguards Used?
Your dentist may recommend wearing a mouthguard in order to treat a dental problem or to prevent injury while you play sports. Dental mouthguards may be needed for:
Bruxism. This is the dental term for teeth grinding and clenching. A mouthguard is usually designed to be worn along the upper arch, thereby preventing your upper and lower teeth from exerting any pressure.
TMD. Temporomandibular joint disorder is often a painful condition that results when these joints malfunction. The joints are located on both sides of your face just in front of your ears. They allow your mouth to open and close. More often than not, TMD happens as a result of bruxism. Therefore, a mouthguard that prevents teeth grinding and clenching is also likely to help alleviate the symptoms of TMD.
Topical Medication. Some dental problems require keeping a topical treatment on your teeth for an extended period of time. For example, MI Paste may be prescribed to treat tooth sensitivity.
Protection in case of impact. A sports mouthguard is one of the best ways to protect your teeth, gums, lips and cheeks while you are engaged in a sport activity. Many dental emergencies happen as a result of a blow to the mouth during play or practice. A mouthguard goes a long way toward protecting your smile and avoiding the pain of injury.
What Types of Mouthguards are Available?
Ready-made mouthguards are available over-the-counter. And while something may be better than nothing, these types of occlusal guards are often bulky and uncomfortable. Therefore, dentists do not usually recommend them.
Another type that can be purchased in sporting goods stores is called a boil-and-bite mouthguard. As the name suggests, you must first heat the guard so it's soft enough to bite and form to the shape of your mouth.
The most effective type of mouthguard and the one a dentist can always confidently recommend is custom-made. These are made from a set of impressions so you can be certain your mouthguard will fit precisely.
If you or another member of your family needs the treatment or protection that a mouthguard can provide, then call your dentist to schedule an appointment.
About the Author
Dr. Thomas Novak is a general, restorative, and implant dentist in Weatherford, TX. He's been a staple in the Weatherford community since 1996, and in that time, he has prescribed custom mouthguards to provide relief from TMD or protection during athletics. To get in touch, Dr. Novak can be contacted through his website.