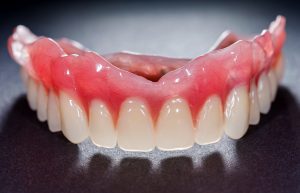 Several advancements in dentistry make it possible to preserve natural teeth for longer than before. Despite new treatments and procedures, tooth loss remains a common problem. It is estimated 35 million Americans are living with complete tooth loss. To regain a beautiful, functional smile 90% turn to dentures. Although they have a bad reputation for looking and feeling fake, the latest technologies improve their comfort and aesthetics. Now, you can enjoy a convenient and effective solution to replace your missing teeth with dentures in Weatherford.

Enjoy the Latest Technology
Dentures have been the go-to treatment for tooth loss for economic and reliable purposes. While there are new solutions, like dental implants, many people continue to choose dentures because of the improvements made to their function and appearance.
Over the years, new technologies have transformed the process of receiving dentures to ensure a comfortable and secure fit while also promoting a more realistic look. With modern dentistry, you will enjoy:
Quick, Accurate Process
In the past, you were required to hold a messy, foul-tasting impression material in your mouth to craft a custom-made base. Now, there is a comfortable and more accurate process using digital impressions. The quick, painless scans take a matter of seconds to produce highly-detailed images that integrate with 3D technology.
Your restorative dentist in Weatherford and the dental lab work collaboratively to create a setup that is accurate. This shortens the number of appointments needed to complete your smile. Instead of it taking 3 appointments, you can have your denture in as little as 2 visits.
Increased Durability and Aesthetics
New milling machines use a block of resin with fewer monomer and porosities, which decreases the risk of future complications, like bacteria growth. The material is available in a variety of shades to find the perfect color to match your gums. It is also durable and less prone to distortion or shrinkage to ensure your smile lasts for as long as possible.
The prosthetic teeth are now milled from preshrunk material that is bacteria-resistant. The teeth are easily modified to ensure the proper size, shape, and color to look natural while also encouraging the ideal bite.
Alternative Treatments
Although dentures remain the most common solution to replace missing teeth, they are not right for everyone. As an alternative, many people have come to enjoy implant-retained dentures. Instead of relying on suction or an adhesive to hold them in place, an average of 4 implant posts secure them to your jawbone.
Which is Right for Me?
After a comprehensive consultation, your dentist determines which treatment best meets your needs and your lifestyle. No matter the option, you can rest assured your new smile will closely look and feel natural.
About Dr. Thomas J. Novak
Dr. Thomas J. Novak strives to build healthy, beautiful, and functional smiles for his patients. Supported by extensive qualifications, he provides the best solutions that cater to each patients' specific needs. He will help you treat your tooth loss using the latest innovations in dentistry to restore your smile. Contact our office today to schedule a consultation.